Certified Copy (dvd)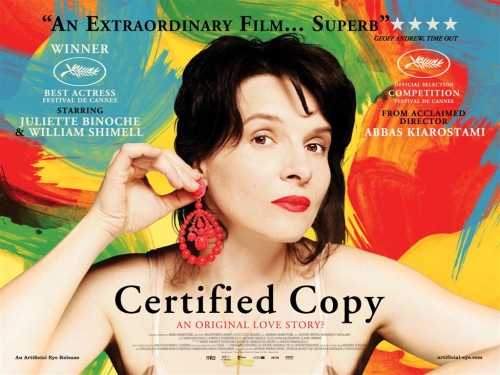 Is Certified Copy starring Juliette Binoche the real deal?
Director Abbas Kiarostami (Through the Olive Trees, The Wind Will Carry us), makes one of those rare trips out of his home country of Iran, to make this curious feature in Italy.
During a book tour for his latest work, English author James Miller (William Shimmell) finds himself in an idyllic part of Tuscany giving a reading. It's there that he's approached by gallery owner Elle (Juliette Binoche), who's a bit of a fan, having already purchased a number of copies of his book.
She excitedly agrees to take him on a road trip, giving him some welcome time to see the sights. On the way, they soon find themselves engrossed in some intellectual head-butting, with Elle taking issue with his theory regarding the value of original pieces of art versus copies.
Elle then decides to take him to a museum where an infamous copy of a well-known painting is on display. Sadly this does not have the desired effect on James; instead of seeing it as a relevant point to support his theory, he grows somewhat weary at being dragged to the museum.
It's while the pair grab a coffee in a local shop that their relationship takes on a new dynamic. Are the couple the real deal or simply a good imitation?

Read the full review on our website: http://www.boomuk.net/certifiedcopy.html